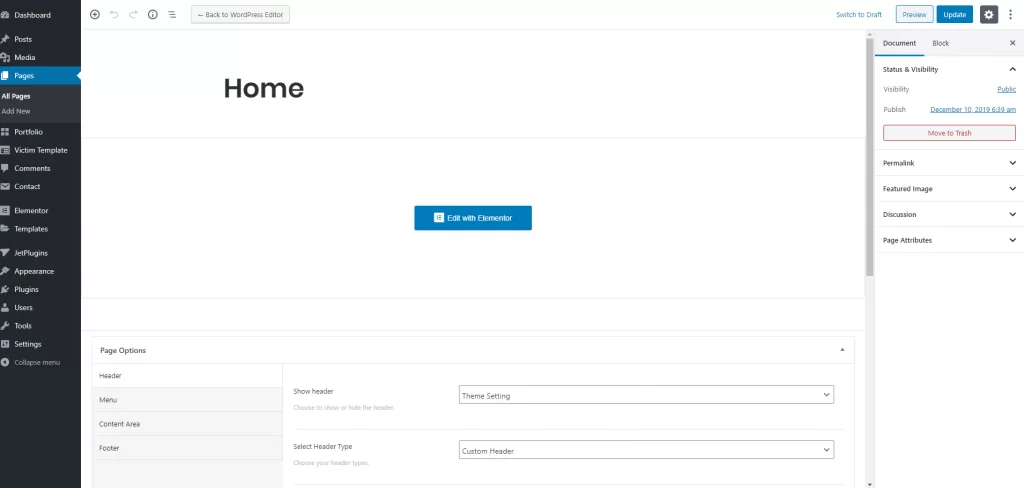 We included a lot of options on the page. because we think the page is the most important things of theme like a portfolio or agency. on the page maximum thing, we can include with Elementor. But before that at here we discussed those options and why and how you can use this.
All things are like WordPress pages. the most important thing is page meta things. Now I would like to tell you why we included these tools and how is the uses.
At page options what we included?
Header: To managing page header we are trying to cover maximum options for you. Let's see what we included here –
Show header – If you want to disable page header then it will be for you.
Select Header Type – Here are three options –

Theme settings – Theme setting is for using theme settings. which is available at customizer.
Custom Header – If you want to change the default header things then all header options are available at here.

Header Main Logo – To include the different logo at page.
Header Background – Change header background colors.
Header Border Color – Change the header bottom border colors from here.
Transparent Header – For using transparent header, just make it yes.
Full-Width Header – Want to use full-width header then make it yes.
Menu Type – We include two menus, one is for a hamburger and another one is a normal menu. you can select different menu type for your header
Sticky Header – If you want to enable sticky header then you can do it from here.
Select Header Template – At custom template means we included header and footer builder with elementor. So the template you make for the header that you enable from here. so that things you can build your own way.
Sticky Header Template – When enable sticky header then Sticky header template appearing.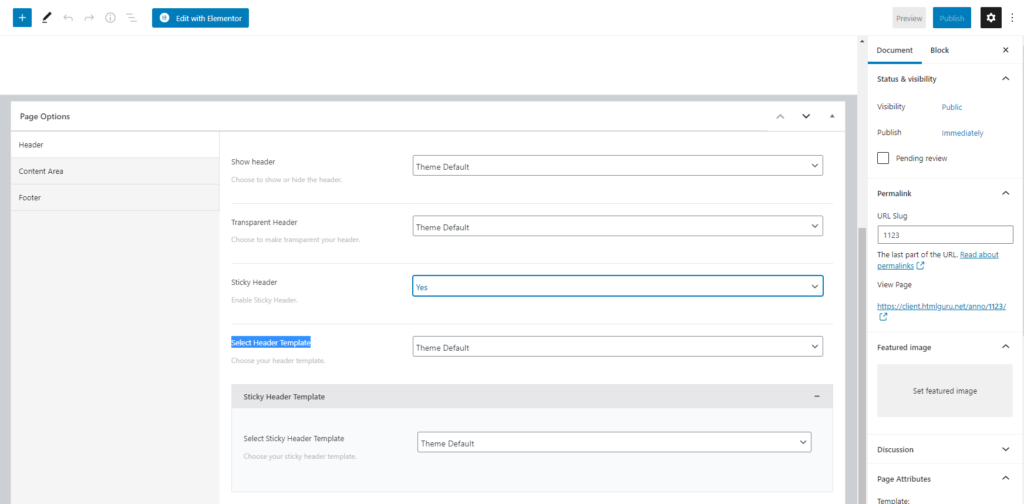 Content Area: At the content area, we cover some option which is helpful for page content area. Although when you are edit page with elementor this is not necessary probably this helps you to customize everything. Let's see –
Spacing Top – For Add page spacing top
Spacing Bottom – For add page spacing bottom
Article Spacing Top – For article spacing top
Article Spacing Bottom – For article spacing bottom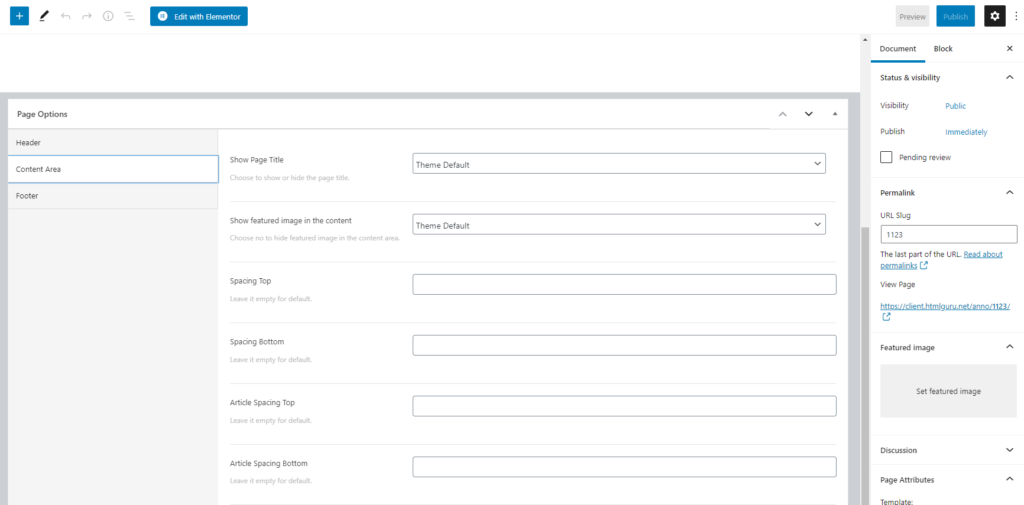 Footer: As like the header this very necessary to include an option for changing the footer. We are trying to give you the freedom to build any design or any website you want. Now see what can you do with footer –
Show footer – If you want to hide footer from the page then you can do it form here.
Footer Type – If you want to display custom footer template for page then you can do it from here. for that, you need to select a custom template from here.

Select Footer Template – When you select a custom template then a list expands if you create a footer template from Materia Template. After selecting the footer template from here new footer is expanded